Dentist in Margate, Pompano Beach, and surrounding areas.
Vital Dental Center
Tooth Pain or Discomfort We Can Help.
We understand that dental emergencies can happen at any time during the day. That's why at Vital Dental Center, we offer emergency dental services in Margate, Pompano Beach, and surrounding areas. Our philosophy is simple; we want to get you back to your healthy self again. To keep your oral health optimal, our emergency dentist will have to diagnose what is your dental emergency and proceed with the best treatment plan. While dental emergencies mostly refer to injuries that have occurred due to accidents and sudden shocks. It also can be simple tooth pain from infections or a need for a period of maintenance. Coming to visit our dentist in Margate at the right time can help you to decide between saving and losing a tooth. If you live in Margate Florida, schedule an appointment with Dr. Maya and Dr. Williams.
What to do during a dental emergency in Margate?
If you are an adult and have a knocked-out tooth, then remember to keep it moist all the time. You can try to keep the tooth back into the socket without touching the roots. In case you are unable to do that, soak your tooth in a container full of milk, nd visit the dentist right away. Schedule a consultation with our emergency Dentist in Margate, Pompano Beach, and surrounding areas.

In case you have a cracked tooth, rinse your mouth with warm water so as to clean the area. You can apply a cold compress to put away swelling.

In case you have bitten your tongue or lips, remember to clean the area and apply a cold compress.

If you are facing toothaches, then rinse your mouth with warm water and avoid putting aspirin in the areas where you are feeling the pain.
What are some of the common dental emergencies in Margate?
There are common dental emergencies like knocked-out teeth, broken teeth, etc. for which you need to rush to your nearest dental clinic immediately. However, if you are suffering from tooth pain or if you have a tooth abscess, then you might also need emergency dental care. Make sure that you do not delay visiting your dentist. This important as it will help in preserving your natural teeth.
At Vital Dental, we offer emergency dental care with experienced Emergency Dentists in Margate, Pompano Beach, and surrounding areas that is ready just for you. We have technically advanced equipment and experienced doctors who can help you to fulfill your dental needs. So if you have any emergency dental situation, feel free to contact us.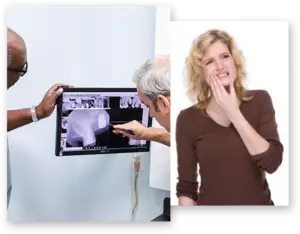 Emergency Dentist in Margate
At Vital Dental, we offer emergency dental services for patients experiencing tooth pain, infections, discomfort in the Margate, FL area. We have advanced equipment and experienced emergency dentist who can help you through your dental emergency. We offer same-day treatment and weekend appointments for your convenience. If you are looking for an emergency dentist in Margate, Florida, then call Vital Dental at (954) 975-9779.
Types of Dental Emergencies
Real Patient Experiences
We care deeply about helping patients to achieve better oral-health and self-confidence. See what real patients have to say about their experiences with Vital Dental Care.
We continue to use this place because they simply do great work and the prices are affordable compared to most others around. Need a dentist for your self or your child this is the place to go.
Lulu L.
I'm so glad to be a patient of This magnificent dental office. Fantastic team and Doctors . Make you feel like family
Marysol S.
It is the most professional and clean place that I have been. The workers are very nice and helpful. Once you walk into the office you are greeted with a smile and they are very pleasant
Veronica H.
I went to Vital Dental with a broken tooth with an exposed nerve. Had no insurance so I was nervous. Was in extreme pain and was seen as soon as possible. The staff helped me to cope with the pain and then Dr Williams and his assistant worked magic to stop the pain and removed the broken tooth. The price was the cheapest in town for this fantastic service. I recommend this place 10000%
Kerry F.
I needed emergency dental care and had viewed many websites before finding this dental office. The staff are professional, efficient and friendly! I was intending on them being a one time appt but have already switched Dentists after 30 yrs of same Dentist. The ladies are knowledgeable, very helpful and caring! I am very comfortable with the Dentist and staff and recommend this office!
Wanda D.
It was a pleasure visiting Vital Dental. Had been there before and decided not to go back but found that there is new staff and just the sweetest and very professional group of people. I feel very confident about my care now because of the reassurance I feel. Just the way my plan of action was explained I feel I have gone to the right place. Thank you.
Sharon B