Your teeth have a significant impact on your oral and overall health- and affect your quality of life. When you are missing teeth, eating and speaking becomes a challenge, which can reduce your intake of nutrients, as well as reduce your desire to socialize due to lowered self-esteem.
There are several options for tooth replacement and the team at Vital Dental Center is committed to helping you understand them. This article explains the differences between dentures and dental implants to help you decide which one is right for you.
What are Dentures?
Dentures have been used for centuries to replace some or all missing teeth. They typically have an acrylic base with acrylic or porcelain teeth attached- and sit on the gums.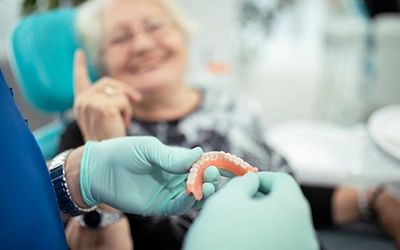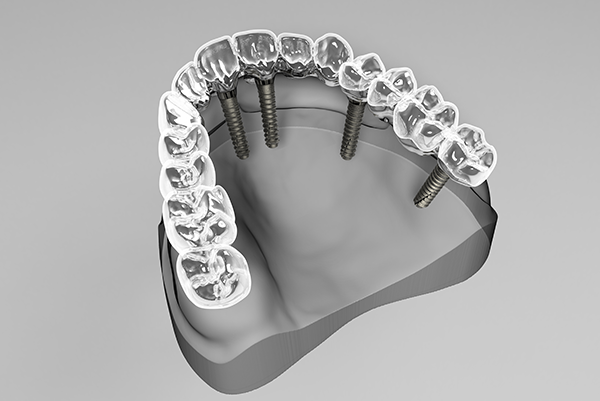 What are Dental Implants?
Dental implants are a device consisting of an implant post, abutment, and crown. The implant post is placed in the gum and jawbone to replace the tooth root. The crown replaces the visible portion of the tooth. The abutment securely connects the two creating a stable base for the tooth.
A single implant can be used to replace a single tooth or several can be used to replace up to an entire arch.
Factors to Consider When Choosing
When deciding which solution is right for you, it's important to consider several factors, including:
Age:

Patients must be over the age of 18 to qualify for dental implants- but there is no upper age limit.

Number of missing teeth:

If you are only missing a few teeth, dental implants may be a viable option but if you are missing most or all of your teeth, you may want to consider dentures or implant-supported options

Health:

If you have uncontrolled underlying health conditions, dental implants may not be the best option for you

Jawbone density:

Dental implants require adequate jawbone density- if you have had some jawbone loss, you must be able to undergo jawbone grafting

Timeline:

Dental implants can take up to a year or longer from start to finish, depending on several factors

Cost:

Dental implants cost about $5,000 per tooth, while traditional dentures can cost up to $3,000 for a full arch
The Dentures vs Implants Comparison
| | |
| --- | --- |
| Dentures | Dental Implants |
| Can be fixed or removable | Fixed |
| Up to $3,000 for a full arch | Approx. $5,000 per tooth |
| Must be relined/replaced every few years | Designed to last a lifetime |
| Removable dentures require special care | No special care considerations |
| Removable dentures require dietary restrictions | No dietary restrictions |
Costs and Insurance
Dental implants cost an average of $5,000 per tooth, which means full-mouth restoration can be expensive. Traditional dentures, on the other hand, can cost up to $3,000 for a full arch. However, the good news is that most dental insurance providers will cover a portion of treatment. If you do not have insurance or if your provider does not cover tooth replacement, we will explain our financing options.
Making Your Decision
According to the American Dental Association, dental implants are the ideal tooth replacement solution. However, the decision of which is right for you is ultimately your own. There is no one else that can make this decision for you. Consider the pros and cons of each option when deciding.
Schedule Your Tooth Replacement at Vital Dental Center Today
Dentures vs Implants FAQs
The team at Vital Dental Center understands the importance of teeth for your overall quality of life. Therefore, we will be happy to address any questions or concerns you may have. Below are a few of the most common questions that we've gotten about tooth replacement options:
What they don't tell you about dental implants?
The process of getting dental implants can take up to a year or more, depending on a variety of factors. Therefore, it requires serious commitment. If you are not willing to commit to the process, this may not be the best option for you.